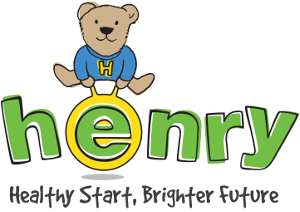 HENRY are passionate about babies and children getting the best possible start in life. This means supporting the whole family to make positive lifestyle changes, creating healthier and happier home environments, and building healthier communities.
Over the past 12 years HENRY have supported thousands of families to transform family life for the better in all sorts of ways – including improved nutrition, emotional wellbeing, parenting skills, and getting more active. HENRY have worked with 15,000 health and early years practitioners and collaborated with NHS trust, local authorities, and many other partners.
HENRY provides a wide range of support for families from pregnancy to age 12 including workshop sessions, an 8-week programme, recourses available for families, and online help, covering topics such as Understanding Childrens Behaviour, Healthy Teeth, Fussy Eating, Eating Well for Less, Looking After Ourselves, Starting Solids, Healthy Drinks, and Let's Get Active.
---
Currently we are running 3 Workshops at The Feel Good Factory, L30 5QW:
Session 1
Thursday 2nd November
9:30am – 11:30am
Understanding Children's Behaviour
Session 2
Thursday 9th November
9:30am – 11:30am
Fussy Eating Workshop
Session 3
Thursday 16th November
9:30am – 11:30am
Healthy Teeth Workshop
Please register below to attend these sessions